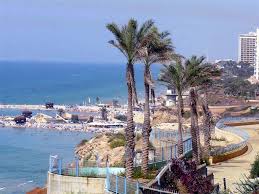 It was March 17, 2020 and the beginning of the coronavirus outbreak.
We packed up our things and took a cab to Netanya which is an hour ride.
We were running from Kiryat Yearim (a 20 minute drive to Jerusalem) due to the threat of a total lockdown.
Rumors were flying around that no one would be able to leave Kiryat Yearim. So our plan was to go somewhere where there was no lockdown.
Unfortunately, we hadn't been listening to the news because the cab driver told us:
"The prime minister announced that the whole country is going on a lockdown."
We didn't want the driver to know that we were trying to avoid the lockdown by running to Netanya. Earlier my daughter ordered the cab and he heard her speak to me in English and he got scared and said that he didn't want to take us. He thought we had just arrived from the U.S. and he was afraid that we would infect him with the virus.
My daughter swiftly calmed him down. So the first thing the driver asked us,
"Why are you going to Netanya?
"We are going on a vacation."
He laughed at us.
"Why are you going now? Everything is closed. The restaurants. The beach. You can't go anywhere or do anything."
He was talking a mile a minute, and almost screaming at us. Then out of the blue, he looked through his rear-view mirror and realized that Miriam was not married. He started to lecture her.
"You should be married. Why aren't you? What are you waiting for? Don't be so fussy, just get married already."
By the time we got to our apartment in Netanya, the cab driver treated us like we were his best friends. He was all smiles as he jumped out of the cab to help us take our bags inside, and he couldn't stop talking about how Miriam was such a fine girl and,
"Why haven't you found a husband?"
He gave us his business card and told us,
"From now on, I am your taxi driver. Call me and I will come bring you back to Kiryat Yearim."
It seemed like we gave this cab driver the positive diversion that he needed to forget about the coronavirus, even for a minute.
Elise Brodersen is the author of Lihyot Israeli and Ani Israeli, a compilation of short stories to learn Hebrew. Published by Hebrew University Press. Mrs. Brodersen lives with her husband Baruch in Sharon, Massachusetts.