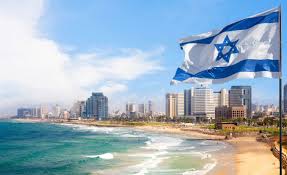 In a time of darkness, a time of pandemic, pandemonium and power struggles, a thin ray of light can be seen in the Jewish world.
The results are in: In May, the number of North Americans applying to make aliyah was double what it was last year at this time (814 vs. 424). In fact, last month was the biggest ever in the 19-year history of Nefesh B'Nefesh, the nonprofit that with the help of Israel's government and the Jewish Agency for Israel has already shepherded some 60,000 North American Jews to new homes in Israel.
With New York, California and New Jersey leading the way, this spring's uptick in new immigrants isn't limited to North Americans. The Jewish Agency officials say they're seeing a "definite rise in the number of aliyah applications around the world," especially in North America, France (where unrest, economic woes and anti-Semitism are increasingly the norm) and Mexico (now carrying one of the world's highest COVID-19 rates). Folks seem ready to make the move, even though it means spending their first two weeks as newly minted Israeli citizens in badood (Hebrew for "quarantine").
The jump of interest in the number of individuals and families begs the question: "Why now?"
For Jay and Michal Brown of Los Angeles, this time in history was the push they needed to realize a long-deferred dream. "COVID-19 gave us an opportunity to slow down our lives and find out what's really important to us," says Brown. "My wife is Israeli and was ready to go home, but it's only these last few months that I've been asking myself, what am I holding onto here?
"I realized I've been chasing money like a chicken without a head," he adds. "So I said, 'No, our kids are not going to grow up like this. They're 7 and 10, and need to be raised with Jewish values. It was during COVID-19 that I surrendered to all that. At 53, I realized I had to change, and that doing what's best for my family was going to be best for me, too."
Marc Rosenberg, Nefesh vice president for Diaspora partnerships. hears from many of the incoming olim. "This period of staying home has given them a rare opportunity for intense reflection on what their life is about, what's important to them at whatever stage they are in life."
And many, especially those who having gotten habituated to working remotely during the global coronavirus pandemic, are now looking to bring their jobs with them to Israel—from the radiologist who's set to analyze images thousands of miles from his office to the human-resources manager planning to run her department from her new home in Israel.
This appeal of Israel as a quality place to live has turned the idea of aliyah on its head, says Ruth Wisse, a historian, retired Harvard University professor, and author of Jews and Power (2008).
"Historically, the natural course of immigration is always to move from a poorer environment to a richer one; it's human nature that nobody moves for downward mobility," says Wisse, now Distinguished Senior Fellow at the New York-based think-tank the Tikvah Fund. "So, during the early days, aliyah was unnatural; you were moving to a poorer place then. But now it's not that kind of aliyah anymore," she adds. "Today, you no longer have to sacrifice your comforts to live as a proud Jew in the land of Israel."
This represents what Rosenberg calls "a dramatic shift for Diaspora Jews—from seeing Israel as simply a safe haven for Jewish refugees to being a smart choice for building a life and a family. And they see that Israel with its good schools, vibrant Jewish community and flourishing lifestyle has also handled the virus well. So all of a sudden, they're recalibrating what Israel can be for them."
Israel has fared better than much of the world in containing the virus, immediately going into emergency mode, using intelligence, technological, medical and military resources to grapple with the threat of widespread contamination. To date, there were more than 17,000 confirmed cases in the country, with a total of 298 resulting deaths and some 15,000 people recovered from the illness. They also put into place measures to assist the Palestinian Authority and the leadership in the Gaza Strip to help them contain potential spread as well.
New immigrants also include empty-nesters, who see Israel as a viable, affordable and Jewish place to spend their retirement, including the appeal of low-cost and comprehensive health care.
Moshe and Shelly Kamionski, also of Los Angeles, are retirees-in-process (she's finished with her optician job; he's a semi-retired lawyer and a rabbi) with three sons already living in Israel and a daughter, a recent "corona bride," planning to follow soon.
"We have 14 grandchildren in Israel," says Moshe, who was born there 70 years ago to a mother who came as a teenaged Polish halutzet ("pioneer") and a father who fought in Israel's War of Independence in 1947-48. "It's nice to see our grandchildren over FaceTime," he says. "But we can't hug them or take them to school. I also feel safer in Israel than in LA now."
This column (unedited) previously ran on JNS.org