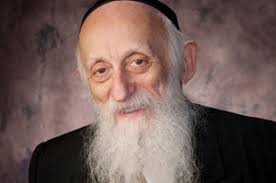 Rabbi Abraham J. Twerski, M.D. was the Founder and Medical Director Emeritus of Gateway Rehabilitation Center, an alcohol treatment system in western Pennsylvania. The Rabbi has written 86 books and frequently lectures on self-esteem, happiness, spirituality, and chemical dependency.
Q: What is true happiness?
Knowing what I was created for and trying to fulfill it. There is a feeling that I have a mission and I am happy to have fulfilled it. Something that was drilled into me ever since childhood was that we are children of Hashem. A prince never forgets he is the son of a king. Never forget that. 
I have had my share of problems. Several years ago, I developed a muscle disease and there is not one day I am without pain and I don't get out of my wheelchair. In Jerusalem, there are so many things I have always wanted to see but can't get there in a wheelchair. It has been an ordeal and I know why I am here. I am in my 90s now and every day is a gift. That belief has to be a part of experiencing true happiness.
Q: What open miracles have you witnessed in your work as a psychiatrist?
One day, I received a phone call from a man that needed to see me urgently, so we made an appointment. When he arrived, he told me he was terribly depressed. He explained he had been diagnosed with Leukemia. The doctors gave him two years to live. I told him, "I do indeed help patients with clinical depression. However, your depression is not clinical. I don't know what I can do for you as you were given a death sentence." The patient answered, "Every two weeks, I need to go to the hospital for a blood test. I have a phobia of hospitals. Can you help me with that?" I answered him, "Although I cannot help you with your major problem, I can help you with your phobia. I can cure phobias with hypnosis."
So, I hypnotized him. Once he was in a trance, it occurred to me to try something else. I told him, "Visualize a joyous affair. It could be a wedding or a Bar Mitzvah. Visualize spending time there. Listen to music and singing. Observe people dancing." He did that. I told him, "Please come back in three days and we will do this again." 
We continued the visualization for a few weeks. I told him, "You will need exposure to joy more than twice a week. However, since I am not able to see you more than that, I will teach you self-hypnosis." I instructed him to stay in the trance for 10 minutes and repeat this three times a day. 
Two years passed and he was doing well. Three years passed and he was doing well. His doctor couldn't explain it!  He told him, "I don't know what you are doing, but whatever it is, keep it up." He ended up living in his 80s, with forty years of happiness every day. I am convinced that happiness cured his cancer. That is the power of happiness. Is that a miracle? Maybe.
Q: Who is your role model? 
My father, who was also a Rabbi. He lived for the love of his fellow Jew. I used to go with him on his travels. He visited the hospital seven days a week. He was an expert at going into a room and saying a few words and immediately cheering up a patient.
When I was the Assistant Rabbi to my father, I also visited patients in the hospital. My father told me to visit a particular patient who recently had an operation. When I entered the patient's room he told me, "Yesterday, your father visited me. It was amazing because I was in excruciating pain and nothing the doctors gave me helped. But when your father came into the room, my pain disappeared." I knew at that moment I didn't have the magic that my father did. 
I fondly remember many examples of my father's love of his fellow Jew. When I was assisting at my father's shul, there were 100 people in attendance every shabbos. On Motzei Shabbos, my father would call all the regulars who were missing that week. He would ask them, "Why weren't you there? Was there anything wrong? Were you sick?" This act of kindness made his congregants feel special.
I remember another situation very well. It involved a family of our shul whose son was drafted and sent to Europe. The family received a telegram saying their son was missing in action. They were devastated. My father tried to encourage them by saying, "Missing in action does not mean that he died! He was probably taken as a prisoner and is still alive."
Once a week, my father would visit them in their home to pick up their spirits. My father's prediction was right. After the war, they discovered their son was being held as a prisoner and was indeed alive. After being released, their son returned to his home base and discovered a pile of letters addressed to him by my father.  My father felt that if he truly believed their son was alive, then his words of hope would have more of an effect on them. Therefore, before every visit, my father penned a letter to their son in order to strengthen his own belief that their son was still alive. My father's devotion to his congregants was tremendous. I don't know anyone else who had such intensity. The highlight of my life was witnessing firsthand, his love for a fellow Jew.
Q: What was the first book you wrote?
It was a book on self-esteem. There is nothing as dangerous to one's physical and mental health than feeling inadequate and unlovable. Unfortunately, this is so common. The book is entitled Like Yourself and others will too! It was turned down by 17 publishers. 
Q: What book are you working on now?
Bagels & Lox – Tallis & Tefillin. Two essentials for a Jewish life are a good physical life and meaningful spiritual life. The book will be available in the upcoming weeks.
Rabbi Twerski's books are available at: 
---
https://menuchapublishers.com/collections/rabbi-dr-abraham-j-twerski
https://www.artscroll.com/Authors/Rabbi_Abraham_J._Twerski.html
https://www.feldheim.com/authors/twerski-abraham-j-m-d.html