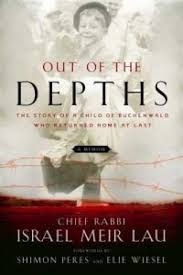 Out of the Depths: The Story of a Child of Buchenwald Who Returned Home at Last. A memoir by former Chief Rabbi Yisrael Meir Lau.
Forewords by Shimon Peres and Elie Wiesel. Sterling/OU Press, 380 pages.
---
Divine Providence, Hashgacha Pratis, the Hand of G-d- all are on display in this amazing autobiography, a story of the sometimes hard to fathom miracles that accompanied a future rabbi from his boyhood in Poland to his position of honor and esteem in Eretz Yisrael.
"I do not believe in coincidence, but in Divine Providence." With this introduction, Rabbi Israel Meir Lau begins his incredible story, a journey that took him from "a small town in Poland…the son of the town's last Chief Rabbi…an unbroken chain of rabbis spanning over 1,000 years" through the Holocaust and Buchenwald and ultimately to Israel where he "rose to become the Ashkenazi Chief Rabbi in Israel."
Rabbi Lau was the youngest survivor of Buchenwald, at 8 years old already an orphan whose entire family was murdered during the Holocaust, except for his brother Naphtali. His amazing story chronicles his liberation from that camp to his time in a French orphan camp to his and his brother's eventual emigration to "British Mandate Palestine."
In his words, "this book also tells about my acquaintance with some very special individuals…who were instrumental in the national and personal miracle of rescue, the building of a national home in our native land, and the transition from Holocaust to revival." Out of the Depths is mesmerizing, incredibly touching, and profoundly moving. It is a book of modern history and a saga of survival and redemption; it challenges us to believe in the unbelievable.
Randy Rubinstein lives in Sharon, Massachusetts