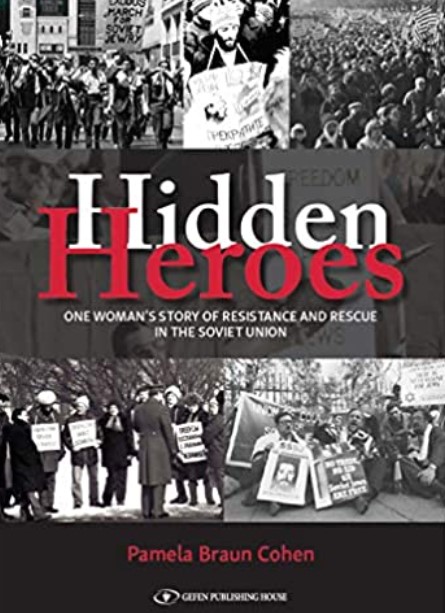 Hidden Heroes – One Woman's Story of Resistance and Rescue in the Soviet Union by Pamela Braun Cohen
"It all started on a warm June evening in 1970. Our kids were already asleep. Lenny and I were in our family room when we heard the news broadcast that would change our lives forever. John Chancellor was on national news reporting that a group of Soviet Jews had been arrested for trying to hijack a plane from Leningrad to the West. We were both astounded…Jewish hijackers?"
That desperate call for help from refuseniks in the Soviet Union to their brethren in America motivated Pamela Braun Cohen in Chicago to write letters to "Soviet officials in protest of the Leningrad defendants and requests for intervention to [her] representatives and senators," and to become part of a "group of activist-oriented mothers who met regularly to discuss affairs of the nation."
From letter writing in her dining room to a leadership role in CASJ, Chicago Action for Soviet Jewry, and UCSJ, Union Council for Soviet Jews, to meeting with refuseniks in the Soviet Union, to state dinners in the White House, to writing this remarkable book, Pamela (or 'Pom-ella' as her Bubbe- and much later her Hidden Heroes- pronounced it) saved one Jewish life after another. Here are some of those amazing Hidden Heroes.
Ari Volvovsky was the "archetypal Moscow Jewish scientist" who, one hour after asking his boss for a character reference needed to apply to emigrate, was fired and was now a street cleaner. He decided to learn Hebrew, a forbidden task, and became an underground Hebrew teacher to other Jews looking to explore their Jewish identities.
Grigory Goldstein, a prisoner of conscience ("zek"), who was a refusenik from Tbilisi, Georgia, served a year's sentence near the Arctic Circle. He was transported in a prison car meant for four people but crammed full with seventeen people to an unsanitary, lice infested cell and was given salty herring and bread every few days with little water if any to quench his thirst.
Yosef Mendelevich was in prison camp for ten years; at one point he was joined by Anatoly Sharansky. They communicated through the 'toilet pipeline'- a secret system of communication where prisoners would tap on the lid covering the toilet, call out a name, and "with the sound traveling along the pipes, the two would engage in conversation."
Amidst all this misery happening across the world, 'Pomella' crossed borders, gave speeches to national and international audiences, met with resisters and zeks, organized and compiled files and sent 'messenger tourists' to meet with the Hidden Heroes, coaching these tourists in the clandestine tricks of the trade as they navigated the airports, hotels and streets of Russia and beyond. While on a much needed and longed for vacation with her husband Lenny, Pamela received a call from the White House social secretary- "President Bush and his wife were extending an invitation to a state dinner at the White House for President Boris Yeltsin during their first summit." Yeltsin had "charmed the Bushes, the press, and the nation. I wondered what he would do with his own country. After dessert, Lenny found me and admonished me to hurry- his new friend, Vice President Quayle, wanted to meet me."
There are pages of photographs in the book showing an unassuming, petite woman with short, dark hair smiling- standing with her husband on her first trip to the USSR in 1978, sitting at a conference table at a White House meeting with President Bush in 1990, and chatting with those freed refuseniks in cities in America. The last photo shows refusenik Abe Stolar meeting Pamela's amazing colleague Marillyn in Chicago in 1989, both with beaming smiles and outstretched arms reaching for a long awaited hug.
There is so much more to this book, the author's amazing chronicle of persistence and energy and time spent saving life after life. She flew to cities and regions that only a Jeopardy champion, having spent months studying geography for that one chance at a daily double, would be able to name ('What is Dushanbe? Alma Ata?'). While connecting with so many denied their Jewish heritage, she reconnected to hers, studying Hebrew, setting up a kosher kitchen, ultimately dividing her time between her home in Israel and the United States. In the midst of all this, she raised three children and managed to remember when it was her day to car pool- for that alone she deserves a medal!
I really am in awe of this author. There is so much more within the pages of this book, too much to relate in this humble review. I remember joining a "Save Soviet Jews" committee through my then synagogue when my children were young. We heard about a refusenik, ate a catered lunch, and went back to our toy filled homes to make dinner while the kiddies watched that tv babysitter, Sesame Street, at four o'clock. We thought we were making a difference. We had no clue. Pamela Braun Cohen has made a difference and impacted lives in the most remarkable, amazing, and, yes, awe-inspiring manner possible.
By the way, I used two pads of yellow sticky notes to mark the pages while I read. Read the book and you'll understand.
Randy Rubinstein lives in Sharon, Massachusetts