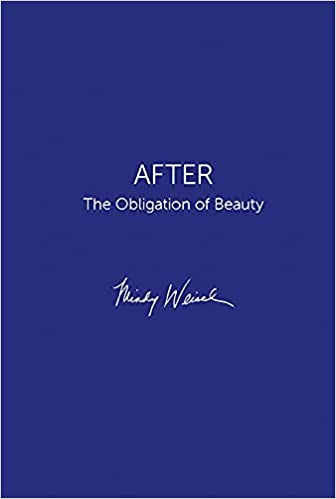 AFTER: The Obligation of Beauty by Mindy Weisel
"A long time ago, I stopped wishing for a different past. One where the mother and father were not Holocaust survivors. When I started writing this book, over ten years ago, perhaps I would have emphasized my parents' stories more than my own….I have been living a life in search of beauty." 
To put it in the simplest terms, Mindy Weisel has written a beautiful book, one which honors the memory of her parents who survived Bergen-Belsen and Auschwitz. She discovered "a pencil drawing by her father during his time in Bergen-Belsen, then a DP camp, of the sun rising in such a bleak place." This expression of hope led her to fall "in love with the power of art. Art can make you feel." As the child of survivors, she certainly felt her parents' pain ("[W]e were an entire generation looking at our parents' faces to see how they felt") but had little guidance in recognizing her own feelings. Paint brushes, pencils, canvases, poems and journals became the media in which she was able to express her emotions, to herself and to us. 
AFTER is a primer on painting: "I start each painting by writing on the paper or canvas I will be working on. I write directly in pencil, until words start losing their meaning. I then mix in paints and start making marks." At one point, each canvas bore the horrific numbers permanently tattooed on her father's arm; another canvas mirrored the scarred texture of her mother's shoulder, burnt during a fire in their Brooklyn home. Each chapter in this book is a multi-media presentation- words describe the author's feelings, pictures of her vibrant paintings are interspersed with family photographs and documents, poems reinforce her emotions, journal entries delve into her thoughts. 
Just as I was becoming acclimated to Mindy Weisel in her art studio, she took me on her journey to Germany and the camps- "I was going to Germany as an American artist, and Holocaust survivors' daughter, representing the United States on a Cultural mission." She visited Dachau, where her mother had been sent before Auschwitz, and witnessed the irony of the charming village situated only a mile from the camp. "What did the residents of the town think, seventy years ago, when truckloads of people were driven through their town and were never brought back?" Still another ironic moment- vases of roses, her mother's favorite flower, adorned the tables during one of the dinners as the son of a Nazi official stood up to read a "meaningful, heartfelt letter of apology to my family…I kept thinking, if my mother could see me now. Fresh roses, no less, on the table." Another chapter, again vibrant with words and art, relates her visit to Japan to meet with survivors of the Tsunami; she conquered the language barrier through smiles and the emotional trauma through art therapy.
I found I had one thing in common with this remarkable woman (she said most humbly)- Mindy Weisel mentions that she loved to look through an old leather suitcase, filled with pictures and Yiddish documents, that her parents brought to America. My mother, the British bride with a deep love of family, also had an old brown leather suitcase filled with black and white pictures of her family; I would find that suitcase in its closeted nook, drag it into my bedroom, and pore through the photos, marveling at my mother's youthful smile as she posed with her family and friends in her exotic (to my child's mind) English locale. 
From the black and white print on its pages to the rainbow of colors in Mindy Weisel's canvases, this book chronicles a daughter's journey through her childhood emotions and adult self-awareness, creating beauty with every step. May we all create and recognize the beauty in our lives and our world.
Randy Rubinstein lives in Sharon, Massachusetts