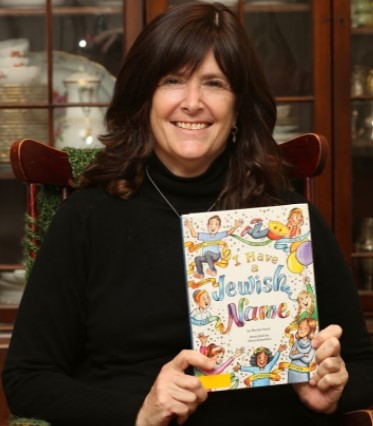 Lisa Marcus was born in Toronto, Canada. Before she became religious, she was a professional dancer and holds a BFA degree from the Julliard School of Dance in New York City. Today, she does choreography for her local community, and reflexology, energy healing, and a variety of work with the mind-body connection.
While studying at Neve Yerushalayim she met her husband, Rabbi Yaakov Marcus, who later became a popular teacher at Neve Yerushalayim and other seminaries in Jerusalem. Together they have started a book reading project called Bubby Story Time.  Lisa and her husband live in Telzstone, Israel. They have six children.
Interview was reprinted from November, 2020. Today there are 580 book videos.
Q: Tell us about Bubby Story Time.
It started this past March during the first Corona lockdown. We began to feel as though we had lost our personal connection with our grandchildren who live in Israel, Boston, and Chicago. We were not able to see them in person. We missed reading them stories. So, we started reading and recording children's stories so the grandchildren could listen to them anytime. My husband especially liked to read his Cholent Stories which he recorded and included in Bubby Story Time. 
Q: Tell us about your husband's Cholent Stories.
On Shabbos, we serve cholent, a hot dish filled with big chunks of meat, potatoes, barley, onions, and carrots. But instead of basking in the aroma of the cholent and rushing to be served, all of my kids would run from the table to play with their toys. As a way to actively engage the children during Shabbos lunch, my husband decided to make up a series of stories, he calls, Cholent Stories. 
So the next Shabbos, when we served the cholent, we also served the Cholent Stories! And all of my kids ran back to the table to hear a different cholent story as they ate their tasty cholent. One of the first stories he wrote is called, The Rocket Ship That Flew to the Moon. The kids loved this story and your children and grandchildren assuredly will too!
Q: How does the book reading project work?
Every day I record myself reading a children's storybook out loud for ages two to seven years old. My husband records on Friday, while I am cooking for Shabbos. The books we pick reflect strong Jewish values as well as the classics such as Dr. Seuss, Curious George, and The Cat in the Hat. While reading, I hold up the book and point to the picture and explain what is on the page. I love to adjust my voice to sound like the characters in the book. It is so authentic that some of the parents feel like Bubby came to help with the kids and when the kids see me on the screen they say, "There's Bubby." I feel like a kosher Mrs. Rogers. This opens up a love for books. It is a chesed project. There is no charge. 
Q: How many books do you have in the project? 
We have  150 book videos available. The best part is that they are stored in Google Photos so parents don't have to worry about their children being on the internet. All you need is a laptop. So many people who continuously share the link with others, tell me they appreciate some downtime with well-chosen books with no internet worries.
I only choose books I feel to have particular values. Sometimes, people request specific books as well. It is a treat for the parents and they can watch the videos anytime. It is also great for kids dealing with any medical challenges as a way to keep them entertained. To find out about the Bubby Story Time is through word of mouth.
To join, post comments, receive notices of new books, listen to the stories, and request your favorites, please check out the below link.